The Psychology of Persuasion
» AaronHemsley.com » Programs » The Psychology of Persuasion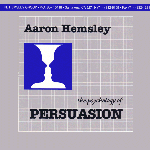 "I'm talking to enough people, I'm just not opening new accounts."
"I did everything, but get the account."
If you have had one of these thoughts recently then this program will be valuable.
Welcome to the future. It's here. Whether we like it or not, the prospecting and sales strategies that have been taught account executives during the last three decades are not going to work in the next decade. Alvin Toffler's idea that "Everything's changing all at once" future is happening today.
Every sales person has learned that many of their cherished assumptions about interviewing, responding to objections, creating and enhancing trust, prospecting and selling are failing to create enough new accounts to achieve their goals.
Over the course of the last few years, we have come to grips with the fact that yesterday's selling methods are not going to be the same as tomorrow's.
Your job is to survive and thrive. That happens by turning more prospect's into clients. The prospecting and sales game has changed and only those salespeople who learn the new methods are going to excel. Those who use the same old methods will hit and remain on levels that fail to satisfy them.
This program is designed to teach experienced salespeople how to improve their sales interviews. We teach salespeople how to use some of the same questioning and listening skills that humanistic psychologists use in their daily practice.
This is a graduate level training program in Applied Psychology, Persuasion and Communication.
This is not a program designed to help those financial advisors who are building a transaction business. This is not a basic or introductory program which provides you a script and tells you to memorize it. This is a Graduate Program in Applied Persuasion specifically designed for experienced, high achieving financial advisors who want to fine tune their interviewing, listening, and persuasive skills. We assume you are a skilled interviewer, top producer, and you have years of experience. Our goal is to help you improve your interviewing, questioning, listening and closing skills.
This program was designed to help experienced financial advisors fine tune their interviewing skills. Specifically targeted to those individuals who are conducting confidential financial interviews. I am teaching you the same techniques that psychologists use to help solve their clients problems, I believe you will be able to use these same skills to improve your ability to listen, to empathize, to disarm anger, to identify the prospects needs and wants, and to use what I call the "natural close."
You will learn how to move through the facade and get deeper into the prospect's psyche than you may have previously believed was possible. You will learn to listen for "feelings," and disarm anger. You will learn how to get to the heart of your clients' issues. You will learn how questions control what the prospect thinks about. You will learn how, what, and why you have been making critical errors in the interview process and learn how to change them.
Performance psychologist believe if you can move, you can with training, improve that movement. If you are an effective interviewer and salesperson, with advanced training, you can make subtle improvements in all of your interviewing, listening, understanding, persuasive, and closing skills.
For prices and ordering, please see the Order Form.